Home | Porsche GT3 | Porsche Signature Serie | Dauer Porsche | Porsche transport | Various Porsches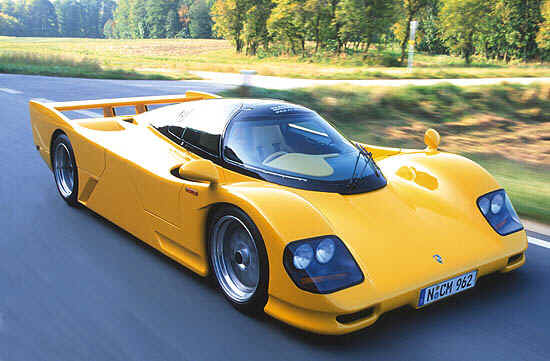 The origin of the Daur 962 is quite curious. At the beginning of the nineties there was a little problem:
The turbo-engines where banded from racing so Dauer who had lots of success with the 962 had a lot of useless cars.
And that's when Dauer decided to build in 1991 the racecars to streetcars.
The conversion with the race version was almost identical (incl. the huge brakes and the biturbo sixcilinder.)
Only difference was that the street versions were slightly pinched. Because of the 1:1 conversion there was also a
small disadvantage, there was room for 2, but that's all said.
And now the why of building a race version to a street version:
Porsche had a look at the GT1 class at Le Mans, in these rules there was requirement that there was a minimum of one
streetlegel car to enter the class. And by that there was nothing that stood in the way to enter the 24 hours of Le Mans.
Porsche pushed the company to participate at Le Mans and so the Dauer was rebuild the the 962 LM Sport.
Because the car now felt in the lower category GT1-class (Normally the 962 belongs in the Group C class) it had a
lot of benefits, the car had more horsepower (100 bhp extra) and they had a bigger fueltank.
Seen that the Dauer was based on a Group C car, it was very likely that the GT1-class wasn't a match for the LM Sport.
It was overall 15 sec. faster than all the other cars. Eventually the Dauer won the 24 hours of Le Mans in 1994.
Both Dauers ended up to the podium with the sister car on a 3th place (Due some problems, otherwise it would be
easily a 1,2 finish.) At the end of the race some of the other teams were furious on the way the 962 LM Sport had won
the race and thereby the rules were changed. And that was the kill for the Dauer 962 LM Sport.
The precise number of street Dauers is estimated to 13, they say that the Sultan van Brunei got 6 of then.
The price for one street Dauer was at the time one million dollars.
Minichamps


(430064002)



Dauer Porsche
962


Streetcar
Black

Minichamps




(430064001)




Dauer Porsche
962


Streetcar
Yellow

Minichamps


(430064001MN)


Dauer Porsche
962

Spielwarenmesse
International
Toyfair
Nürnberg
2008


On the bonnet:


Spark
(SPA43P009)


Dauer 962


Testversion for the
24h. of Le Mans
1994,
driven by
Hans Joachim
Stuck

Minichamps


(43394636)
[LE: 1 of 999 pcs.]


Dauer 962
Le Mans


Dalmas/Haywood/
Baldi



"

F.A.Turbo"

Le Mans 1994

Best result:
1st

Overall winner

Minichamps
(433946435)
[LE: 1 of 999 pcs.]


Dauer 962
Le Mans


Boutsen/Sullivan/
Stuck

"Shell"

Le Mans 1994

Best result:
3th overall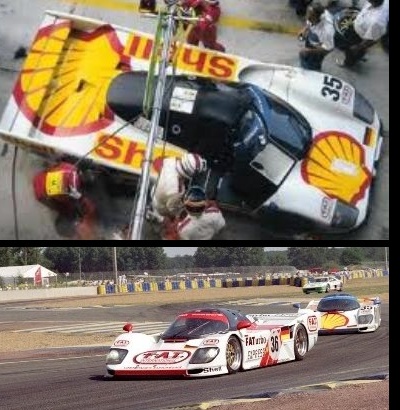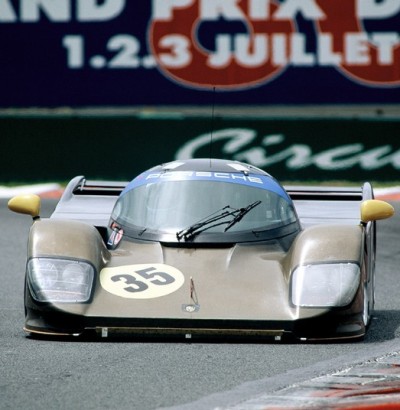 This site was last updated 19/07/15 Return to the Porsche page